Fire and Ice Thai Beef Salad
|
Years ago I asked Hana, my chef friend, what I needed to do to become a better cook. I didn't know if I needed to read textbooks, watch instructional videos, just practice, or what. Her answer surprised me. She said I didn't need to worry about all that, I just needed to know the basics, and have some really good recipes. I have to say, I didn't believe her at first.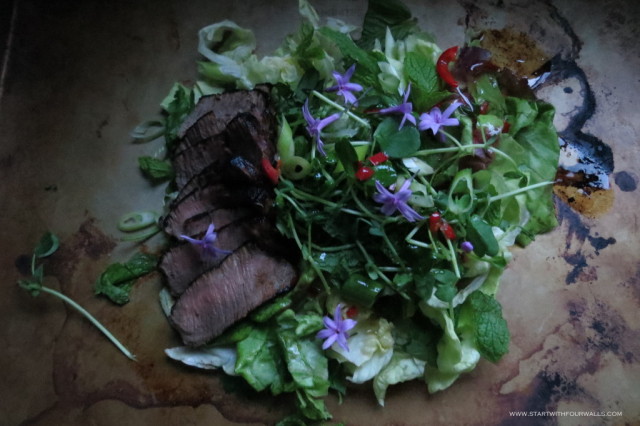 But, as I've continued to cook over the years, I have to admit that she was right. Having the perfect recipe can make you a total kitchen hero.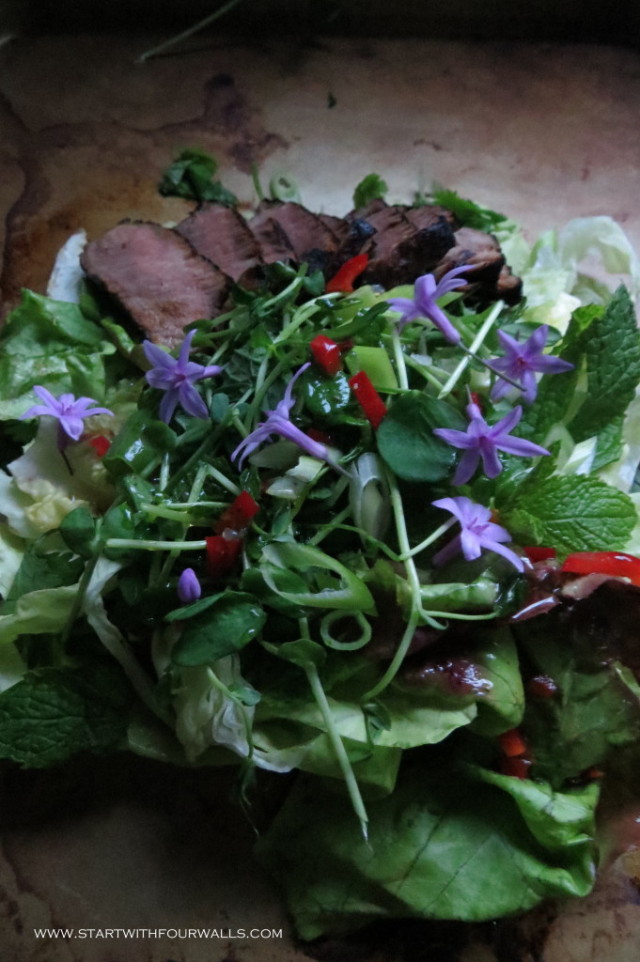 This is one of those great recipes to have in your back pocket. It's easy to get stuck in a salad rut during the summer, so it's kind of exciting to switch it up, and try a new, slightly exotic salad, with spice from the chilies and cool crunchiness from the lettuce and herbs.

This recipe is slightly adapted from a cookbook called, The Family Chef: Make Your Kitchen the Heart of Your Family
 by Jewels and Jill Elmore. There are about 4 recipes in that book that have become staples for me, and I have continued to make them and adapt them to my lifestyle over the years. Both women have been personal chefs for major celebrities (Jennifer Aniston wrote the forward to their book), so most of the recipes are focused on ways to make whole foods delicious. There are some cookbooks that you go back to time and time again, and this has been one of those books for me. They made pasta out of zucchini and carrots way before it was popular. This fact alone makes me love them.
I will post the original recipe and the modifications I made. There are a lot of ingredients here, but the only thing you have to cook is the steak, so it's a super easy recipe even though the list is long.
Fire and Ice Thai Beef Salad (Gluten Free)
Enough for 6 people.
Ingredients
For the beef and marinade:
1 steak or fillet per person
1 shallot (I used half of an onion)
2 cloves garlic, smashed
1/4 cup brown sugar (I used coconut sugar)
1/2″ piece ginger, smashed
1/2 stalk lemongrass, middle part only, crushed and chopped
2 teaspoons sriracha
1/4 cup soy sauce (I used Coconut Aminos)
1/4 cup Asian sesame seed oil
1/2 lime, juiced
1/8 cup coconut vinegar (I used rice vinegar)
For the salad:
1 head red-leaf lettuce, chopped
1 head butter lettuce, chopped
3 handfuls pea shoots
1/2 bunch basil leaves, torn or chopped into pieces
1 bunch mint leaves, torn or chopped into pieces
1/2 bunch cilantro, torn or chopped into pieces
For the dressing:
1/4 cup coconut vinegar (I used rice vinegar)
1 lime, juiced
2 teaspoons fish sauce (I didn't have any, so I left it out)
1 tablespoon palm sugar or regular sugar
1/4 cup roasted peanut oil
1 Thai chili peper, sliced into rounds (use more if you like it spicy. Don't touch your facial area or other sensitive areas after you chop these, it will burn)
splash of extra virgin olive oil
dash of salt
dash of pepper
Crushed or chopped candied or dry roasted peanuts to sprinkle on the top (my own addition)
Method
Add all of the marinade ingredients in a blender and puree to combine. It can be a chunky liquid consistency. Pour the marinade over your beef and rub it in. Let the meat sit for 15 minutes.
While the meat marinates, combine the salad dressing ingredients in a small bowl. Mix or whisk them well so that they are thoroughly combined.
Cook your steaks using your preferred method, either on the grill, in a pan, or in the oven. Let them rest for 5-10 minutes.
In a large bowl, add all of the salad ingredients. Dress the salad and, after the meat has rested, add the steaks after they have been sliced into thin strips, against the grain of the meat.
For a little extra crunch add some chopped candied peanuts after the salad is assembled.
Enjoy!
Linking to Rooted in Thyme and Savvy Southern Style.
Disclosure of Material Connection: Some of the links in the post above are "affiliate links." This means if you click on the link and purchase the item, I will receive an affiliate commission. Regardless, I only recommend products or services I use personally and believe will add value to my readers. I am disclosing this in accordance with the Federal Trade Commission's 16 CFR, Part 255: "Guides Concerning the Use of Endorsements and Testimonials in Advertising."