Four Grilling Options for the Fourth
|
Hey There!
Just popped in to give you a quick round-up of some grilling options for the Fourth including some amazing looking burgers (and one pretzel hot dog) that might just have a last minute chance of making it onto your weekend BBQ menu.
They all look seriously juicy, flavorful, and a bit out of the ordinary. I'm kind of partial to burgers that have some kind of sauce or topping paired with them because when you do a buffet style menu things tend to get dried out pretty fast. Especially in the heat of the day. Sauces help a lot.
I hope you enjoy the long weekend!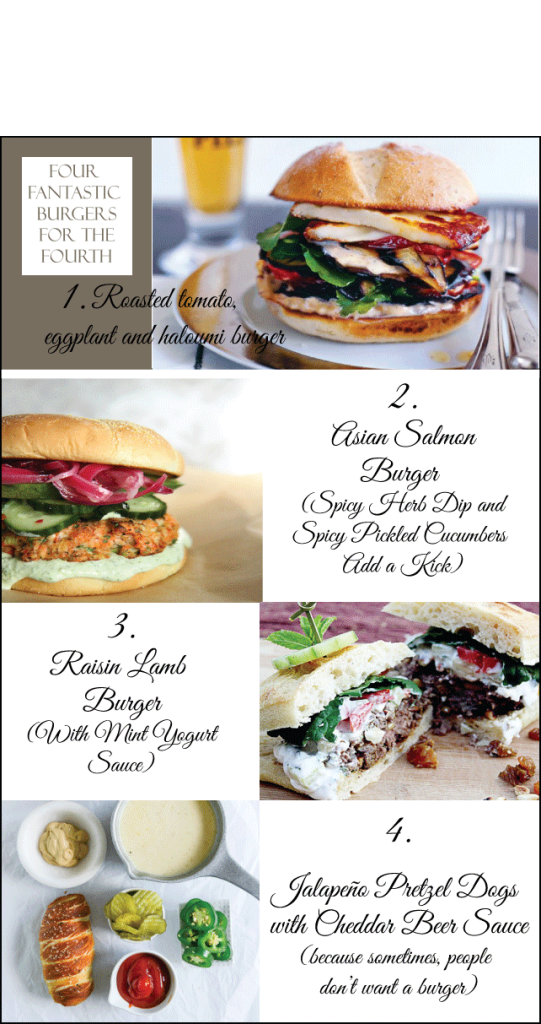 1. Donna Hay's roasted tomato, eggplant, and haloumi burger, Heather Christo's asian salmon burger, In Sock Monkey Slippers' raisin lamb burger with mint yogurt sauce, How Sweet It Is' Jalapeno Pretzel Dogs with Cheddar Beer Sauce. 
All images via their respective websites listed above. Featured image from How Sweet It Is', Bacon Pineapple Burgers with Candied Jalepenos and Sweet Chili Mayo recipe. That one looks amazing as well, UGH, too many options!
What are you cooking up this weekend?!