My Sister's Master Bath Renovation
|
My sister and her husband moved into a new house a couple of years ago, and have been working on renovating the bathrooms for the past few weeks. I wanted to share their progress with you because 1) I love a good before and after, and 2) It's kind of exciting to see what you can do with small spaces. You don't need to live in a mansion to live a wonderful life.
Just to orient you, this is the view as soon as you walk into the bedroom.
As you turn to your left, you see the doorway to the bathroom.
And if you continue turning, you see the small walk-in closet.
Here are some shots of the bathroom before anything was done to it. It was really so small I could barley get in there to get any decent pictures.
You can see there was almost no storage. I think it actually looks bigger in the pics than it was in real life.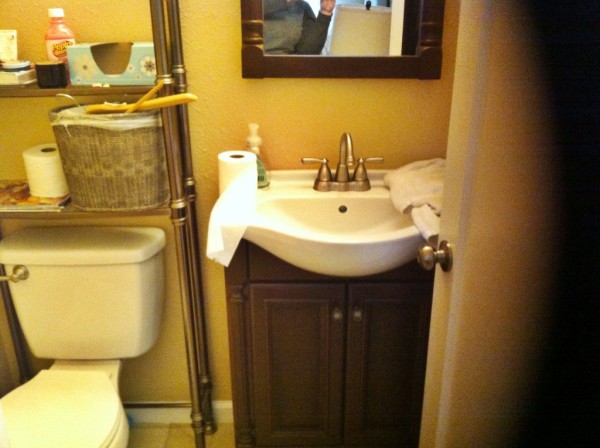 Because there was no shower, it was really more of a powder room than a master bath. They knew they had to create more space if they wanted to add any kind of master bath features, so they tore down the wall separating the bathroom and the closet, and turned the closet space into a shower.
Some demo/in progress pics of the bathroom…
With the closet being turning to a shower, they needed to add a closet somewhere in the room. After some debate and a ton of Pinterest boards, they decided on the wall adjacent to the entry door.
And this is where things are at right now. Walking into the room, you can see the new closet with mirrored doors.
And turning to the left, you can see the bathroom and the wall where the closet used to be, which is now sealed. There was no room to re-attach the bathroom door, so they are going to do one of those sliding barn doors on the outside of the room (kind of like this, but way less rustic).
Here's the view to your right when you walk into the bathroom. You flush the toilet by pressing one of the buttons on the panel above the toilet. Pretty cool, huh?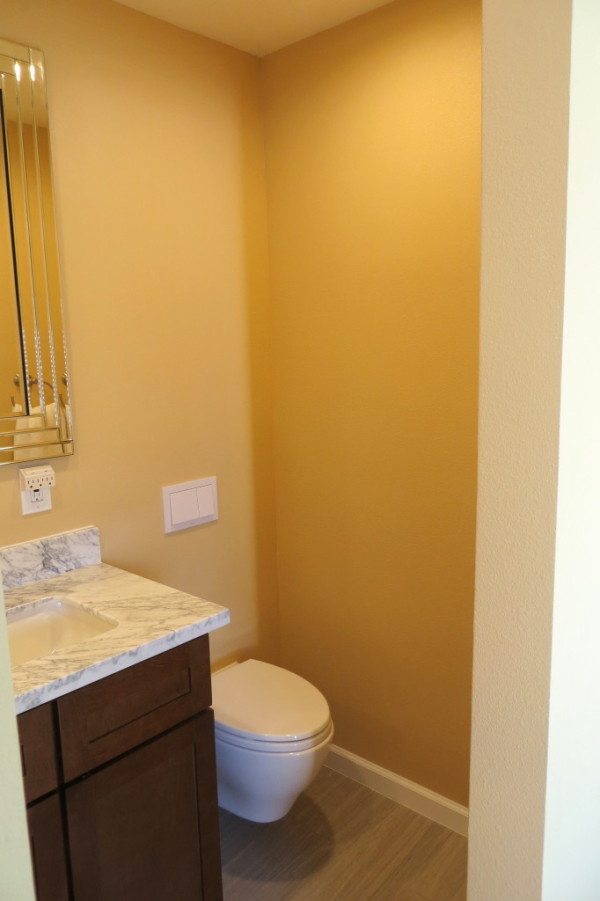 And here is the closet turned shower. They are going to put up a glass enclosure at some point. But decided to wait on that for a while.
A little bench to rest your foot while you're shaving your legs.
And that's where it stands right now. They're so close to being done with this one though. They just need to put up the glass enclosure, the sliding door, some artwork, and some towel racks… I'll do a full reveal when both bathrooms are finished. Demo is currently taking place on their hallway bathroom as well, but they're glad to have a brand new, huge shower to relax in. The huge floor tiles are my favorite part.
What did you think of the transformation?
ooox,
Nicole
Speaking of artwork, here are a few of my favorite Etsy art vendors. Also, I designed the nursery for my nephew, which is adjacent to this room (you can see it here).