Chocolate Fondue Party
|
Hi Everyone!
We have a really special post today from one one my favorite people. Her name is Hana Blake, and she is a talented professional chef. Some of the best meals of my life are ones that she has cooked. Once we were making fondant flowers for a friend's wedding cake and for lunch she made these lemon scented chickens that were so moist and tender and juicy and flavorful. Another time I was going through a breakup and she made me dinner with these black beans that were so savory and spicy, they were the best beans I've ever tasted. I could go on, but instead, I will let her take it away. Enjoy my friends!
When I was trying to decide what to write for my first ever blog post, I started thinking it would be fun to show you how to make a dish that was created in the professional kitchen that I have worked in for the past 11 years. Coming from that environment, where I do much of the ordering and purchasing, I get excited about all the ingredients I can buy for the kitchen in bulk, especially when I don't have to pay the bill. However, when I see the prices in the regular store, I am brought back to planet earth where I live on a kitchen girl's wages and have to budget my expenses. In all of my posts, I will do my best to give you tips on how to save your money while still eating luxuriously.
Tonight, I made an individual chocolate fondue type of dessert that was for a banquet of 50 at work, and I was inspired to take a cell phone picture of the finished product to share with you (its crazy to think of the cell phone I owned eleven years ago compared to the one I have now, which takes a darn good picture plus, get this, my phone can take me to the internet). Basically you need to make a chocolate sauce using quality ingredients like cream, honey, vanilla and chocolate. Then pick out your favorite food items to dip in the chocolate. I tend to take for granted the quantity of items on hand at work, so I too will make this from home to show you how to make a professional style fondue from your regular grocery store and home kitchen!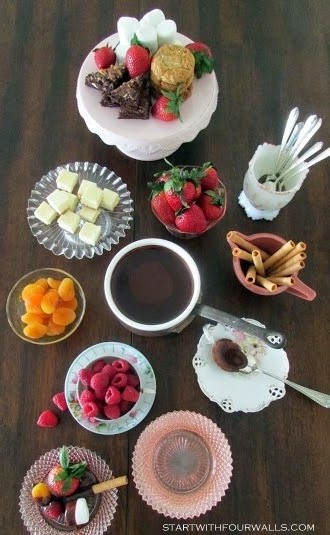 This would be a fun house party dessert. Easy peasy too! You could serve it individually to each of your guests on your favorite dessert plates, or you could make a family style platter to sit in the middle of the table for your company to enjoy over a glass of wine or game of cards. This could be served to two people, for a date night, or served buffet style to showcase all of those super cute dishes and bowls you have been collecting. I was even thinking that you could use different tea cups for each person and ladle the chocolate into tea cups while using the saucer as the plate for dipping items.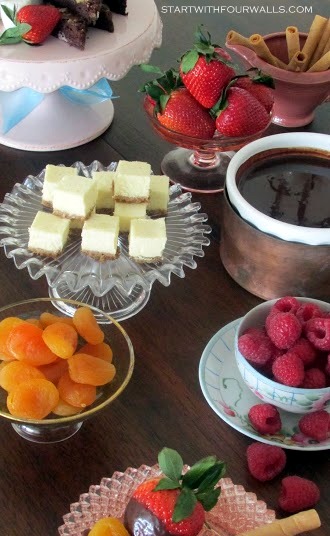 Don't limit yourself here when choosing dip-able foods…You can see the ones I have chosen at work, strawberries, apricots, raspberries, marshmallows and graham crackers. And below, you can see what I have chosen for my at home version of this yummy fondue. I thought brownies, peanut butter cookies and cheesecake bites would be fun to dip. Pretzels, rice crispy treats, bananas, pound cake, mini cupcakes would all be divine too. Or get creative and make sugar cookie shapes to drench in chocolate fondue! You can even make it a healthy snack by using fruits, dried fruits and nuts.
Chocolate Fondue
One recipe can serve 4 to 6 (This, of course, depends on how you serve it. Putting a community bowl of chocolate out might stretch further than serving each guest a tea cup of fondue)
Ingredients
2 cups heavy cream (to save money and for a slightly lighter version of the sauce, use 2 cups half-n-half)
13 oz of your favorite dark chocolate or semi-sweet ** (if $ is an issue here use a good quality chocolate chip)
2 oz of honey (I love to use honey from my dad's bees)
A generous pinch of kosher or sea salt
1 tsp of vanilla extract
**Choose a chocolate in the 50% or 60% cacao range. I find that range gives a nice amount of sweetness for this recipe. The percentage of cacao relates to the sugar content and intensity of the chocolate flavor. The higher the % cacao the less sweet and dark the chocolate will be. You can read more about what cacao percentages mean here.
Method
Scald cream (or half-n-half) in a heavy bottom sauce pan. Scalding the cream simply means to heat up the cream until you see little bubbles around the edges. Boiling is a little too much, but if it happens to boil, (this can happen easily if you turn your back for a second) don't worry, remove the cream from the burner right away and it will be fine to use.
While waiting for cream, cut chocolate into slivers or chunks. I try to keep them somewhat small, like chocolate chip size or smaller, so they will melt easily.  Put chocolate into a medium sized bowl. Add vanilla, salt and honey.
When cream is bubbly around the edges, take the pot off the stove and pour it over the chocolate/vanilla/honey mixture. Let the mixture rest for about five minutes in a warm place, perhaps near the stovetop. At this point the chocolate should be melted enough to whisk all of the ingredients together.
Done. You are ready to serve your chocolate (and enjoy the party).