DIY Large Scale Art: Ikea Hack
|
Hi There!
I wanted to share a recent DIY project with you today. My home has very large ceilings in the dining room area, but all of the other ceilings except for two are regular height. It's nice to have the height but it can create an overwhelming amount of blank space that has the potential to look awkward with normally scaled furniture. Eventually, it would be fun to DIY some kind of built in bookshelves in the dining room area, kind of like this, but for now, I need some inexpensive large scale art. Over the course of a few months, I went to several stores and looked online, but I couldn't find anything in my price range. Even if I had found a great piece, I would have had to get it delivered (= fee $$)  as there is no way something that size would have fit in my car.
As I was walking around Ikea one day, I spotted these huge canvases. The size was right but the photo was definitely not. Then I noticed that, like everything Ikea, you have to put it together yourself. Hmmm, low price, fits in my car…I wonder if you can put it on the frame backwards, with the picture facing the wall and then paint on the back. Turns out, you can! Someone assembled the canvas for me, but it's not too hard to do if you have a little arm strength. Then I  decided on painting an ombre mountain range effect on the canvas. It was super easy, I just painted the entire canvas white, then started painting the top again with white paint and for every row of mountains, I added a couple blobs of the blue color.
I set the canvas up with two sawhorses underneath the frame. Then, I started painting.
You can do this in one day if you pick a a warm one with plenty of sunshine.
Here is the finished product.
I tried a few different styling arrangements. I'm still figuring out what looks the best in pictures.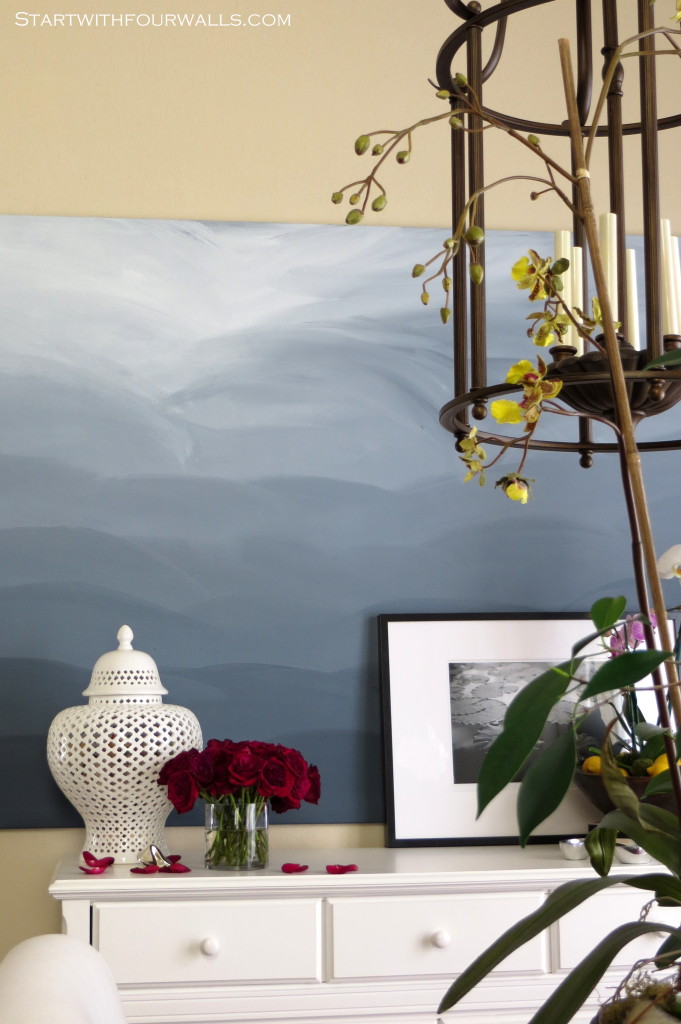 What do you think? It's not going to win any awards, but it does the job for now.
Can you tell I like flowers?
Have you ever DIY'd any art projects? Any art tutorials you would recommend? Or are you an actual artist and horrified by what I did? Let me know!