Asian Chicken Cabbage Wraps (Gluten Free and Paleo)
|
Sometimes the thought of making dinner makes me want to give up eating entirely. I usually don't mind cooking, but sometimes I'm too tired to put forth the mental energy needed to tell my hand to lift the pot out of the cabinet, let alone cook a whole meal.
Do you know what I mean, or am I alone?
Anyway…this recipe for Asian Chicken Cabbage Wraps is one that you will be happy to have in your everyday arsenal. It's so quick and easy, but it's really full of flavor. Plus, if you're thinking about gluten free/paleo/healthy food because your palms develop a mist of sweat when you see pictures of bikinis on Pinterest, this is a great recipe for you.
I adapted this one from Juli Bauer's Cilantro Chicken Nuggets recipe. If you haven't visited her website, PaleOMG, you really should. She is funny and strong and talented and pretty. She posts recipes almost every day, which is amazing. I've made a bunch of her food and it's always good. Go there. Well, maybe wait until after you make these…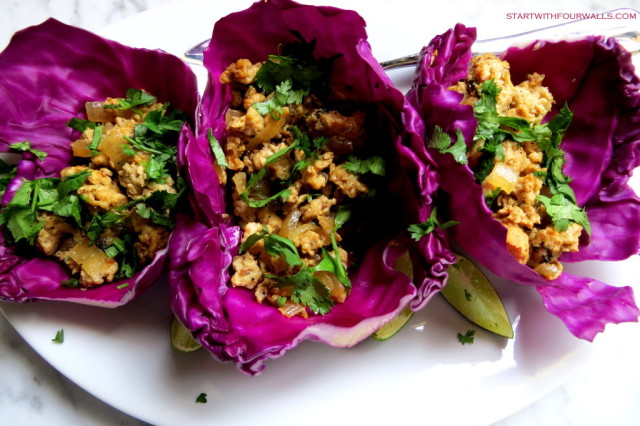 Asian Chicken Cabbage Wraps (Gluten Free and Paleo)
One batch can serve about 4 people or 2 really hungry people.
Ingredients
For the chicken mixture:
1 small onion, diced
1.5 pounds ground chicken
1 bundle of cilantro, chopped
¼ teaspoon ginger
Salt and pepper, to taste
1-2 tablespoons fat such as avocado oil
For the sauce:
¼ cup Coconut Aminos (these are the Paleo substitute for Soy Sauce. You can use soy sauce, but you would probably only need a 1 tablespoon.)
⅛ cup apple cider vinegar
1 tablespoon ground stone mustard (from the bottle/container-not powder)
1 teaspoon honey
2 teaspoons sesame oil
Pinch of dried red pepper flakes (depending on how hot you like it)
To assemble:
Purple cabbage leaves (or whichever wrapper you choose), cilantro to garnish, lime to squeeze on at the end
Method
Heat a large skillet over medium high heat and add 1-2 tablespoons of oil (I like avocado oil, coconut oil would be good here too).

Once the oil is hot, add your diced onion and saute until it gets soft and translucent

Add the ground chicken to the pan along with the salt and black pepper and cook until it is no longer pink, for about 4 to 6 minutes. Use a wooden spoon to break up the meat into small chunks and mix it together with the onions. 

While the meat and onion mixture cooks, mix the sauce ingredients together in a small bowl.

When the chicken is finished cooking, turn the heat down to low and pour the sauce into the pan with the chicken and onions. Use your spatula to mix the sauce in with the chicken. Let the sauce simmer with the chicken for 4-5 mins.
Add about 1/4 of a cup of the chopped cilantro to the pan and give a stir.
Arrange your cabbage leaves on your plate and spoon the saucy chicken mixture into each cabbage cup. Garnish with a squeeze of lime and some chopped cilantro.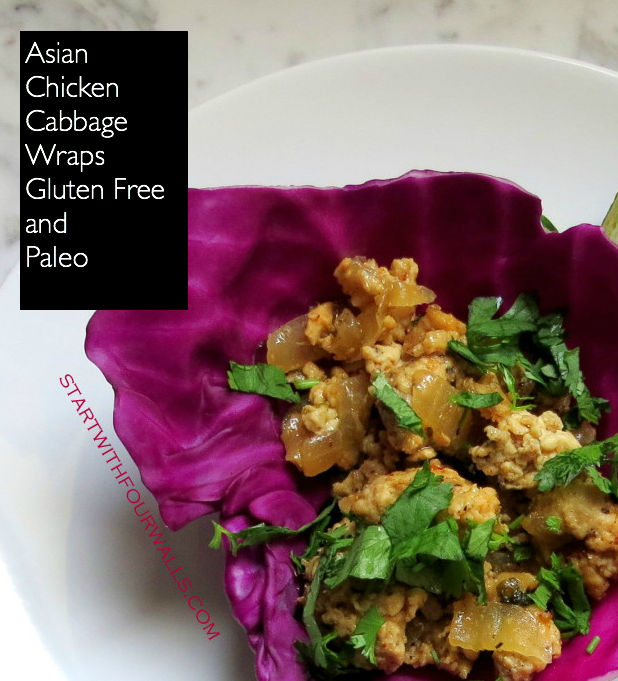 Linking up to Dwellings, Joy in Our Home, Creatively Living, Boogieboard Cottage, Three Mango Seeds, A Stroll Thru Life, and Tickle My Tastebuds.
Yum.