Customizing Inexpensive Art For The Kitchen
|
I wanted to pop in and show you an easy way to customize inexpensive framing mats for your pictures.
For one of my final projects in the kitchen makeover, I bought 3 Ribba frames from Ikea, some pretty sheets of paper from Paper Source, and three pictures I loved.
The first piece I framed is the Wishbone Print from Lindsay Letters. I just love her shop, she has the most beautiful lettering, and she even offers prints on canvas now! Browsing her shop is like entering a different world full of chicness. The best brands always do that. I am definitely in love.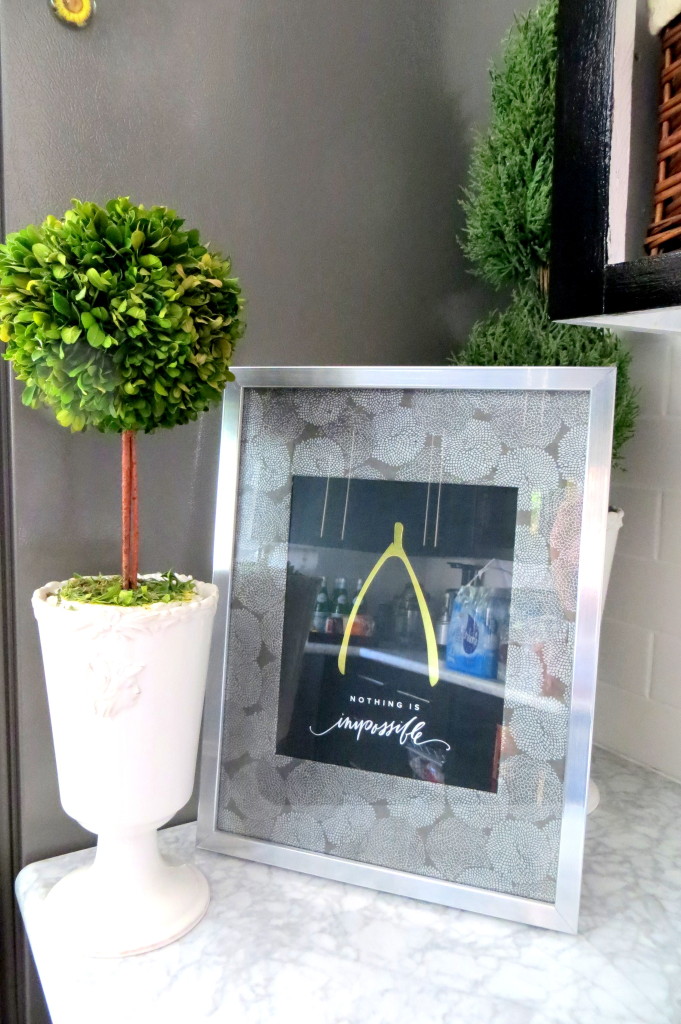 (Sorry about the glare on the glass, yes we did just buy a few cases of water, and still haven't put them away. What? No judging me.)
I wrapped the paper around the mats by roughly following this tutorial. But, instead of using spray adhesive (I was afraid it would stain the paper), I put double sided tape on the front side of the mats and stuck the front side of the mat to the back of the paper. I then followed the rest of the tutorial, cutting the paper, folding it over the mat, and taping it in place on the back of the mat.
The octopus and clam pictures are from a shop on Etsy called Amy Roth Photo. You might remember, I wrote a blog post about affordable artwork a while back and hers was one of the shops I included.
Writing that post convinced me to get them…I'm so glad I did. 🙂

I think it was Sarah Richardson who said that her rooms have 10-12 patterns in them. I think I'm only at 6 so far in the kitchen, so I'm counting the flower pattern on the paper as another one. I love that having the same paper on all three mats kind of loosely ties them together without having them match exactly or be part of a series.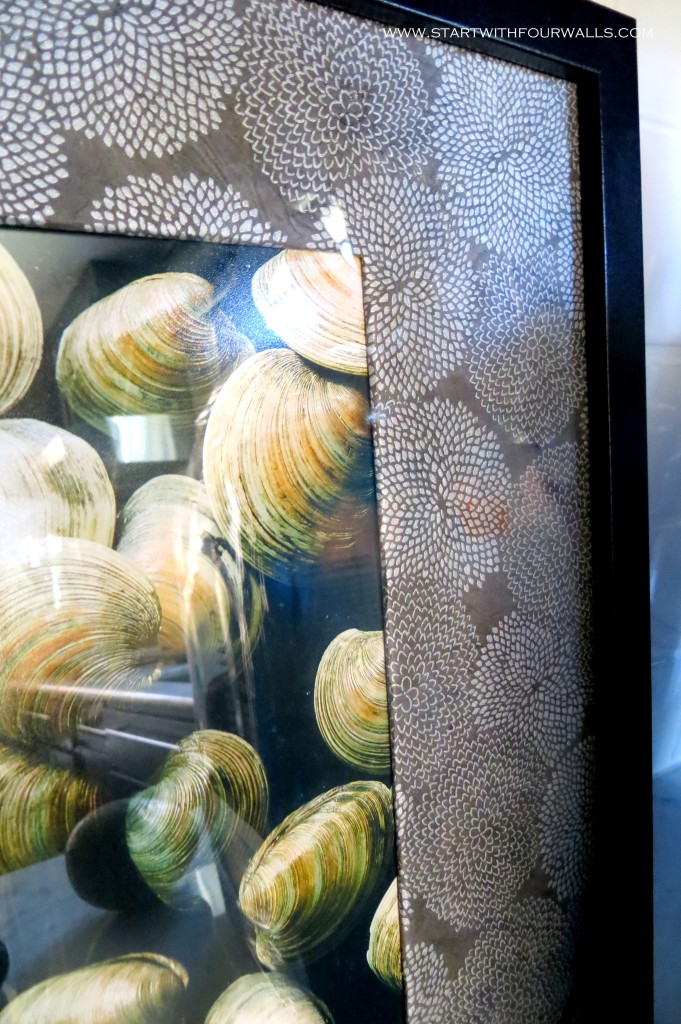 I think octopi (?) were my favorite animals when I was a kid. My mom says I used to draw them all the time. I have no idea why and have no recollection of these drawings. But, last time I was on vacation, I saw the cutest little white octopus that changed colors as he slid over the coral of the reef. Having little things around me that evoke good memories make a place feel like home to me. What makes home for you?
That's all for now! Hope you are doing well today.
ooox,
Nicole
Linking to A Stroll Thru Life, Love Grows Wild.