Crushing On Color: Pink
|
It might be because summer is just around the corner, it might be that I'm just wanting color, but for some reason I'm totally crushing on pink right now. Pink is one of those colors that can elicit so many emotions depending on how dark or light the shade is. It can be flirty and feminine in the lighter range with the darker shades eliciting a traveled and glamorous edge.
A favorite room of mine for a while now has been Amber Velletta's bedroom designed by Jeffery Allen Marks. Both images below are from an InStyle feature on Amber's Santa Monica home, featuring the photography of Dean Kaufman. Her entire house is lovely.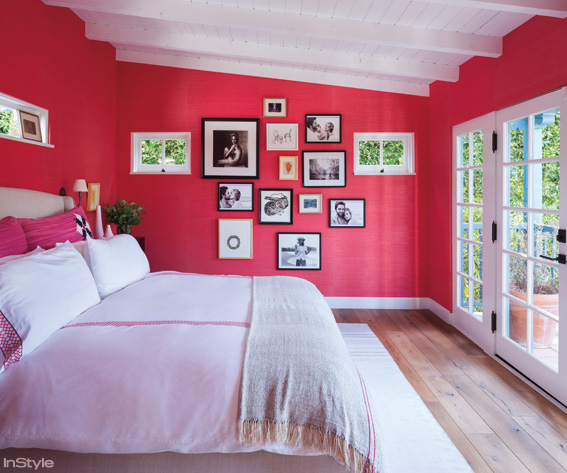 I love the traveled and collected look of the room, the white light pouring in through the windows and bouncing off the pink grasscloth wallpaper. I love how the artwork breaks up the mass of color. I couldn't find a good picture of the nightstands, but they are amazing as well. The room is featured on season 2 of Million Dollar Decorators on Bravo. Amber and her husband were both hesitant about the pink wallpaper, as most people would be, but it turned out so amazingly well in the end. It's worth watching. You can buy the episode on iTunes.
Here's a roundup of a few pieces that will give you the look for less.
If you aren't sure you're totally committed to an entire pink room, you could add shots of color through accessories that can easily be changed out when you're ready for something new. Art, pillows, lamps, flowers, books, trays, and any small trinkets are temporary additions that can change the whole feeling of your room. Pink pairs well with so many other colors, but pink and grey are so chic together.
This neutral room is infused with energy with just a handful of pink accents.
Here are a couple of different options for punching up your room with pink. I love the variegated tones of the coasters, like beautiful cotton candy trees were cut down and these are the cross sections of their trunks.
I think pink is really a love it or hate it kind of color for many people. So tell me, what do you think of pink?
ooox,
Nicole