Defining Your Style
|
Sometimes defining your style when it comes to interior design is pretty diffucult. Do you like modern or shabby chic? Or maybe you're into transitional? Traditional? Beachy, relaxed, elegant, industrial? Gah! It can be overwhelming, especially when you're trying to decide on decor items to purchase for your nest. Should I get this for my place, will it go, I don't know… It can be paralyzing. But if you know what your style is, you can make design decisions more easily, giving the people that shop with you (and field your questions) a blessed relief.
I have a perfect, easy solution to help you take your first step to defining your style. A couple days ago, I went to Home Goods. As I was walking through the aisles, I saw a few pieces that I really liked, and I thought I would take pics of them to show you all. I really didn't have anything else in mind except to write a post about things I found. But, as I was looking through the pics later on in the car, I started to see my design preferences coming through. Natural elements, metals, metallics, and soothing neutral tones with hints of blue worked together to create the bigger picture. Here are my choices from this weeks' Home Goods trip. (These are all iPhone photos, I didn't plan to take these when I went in the store.)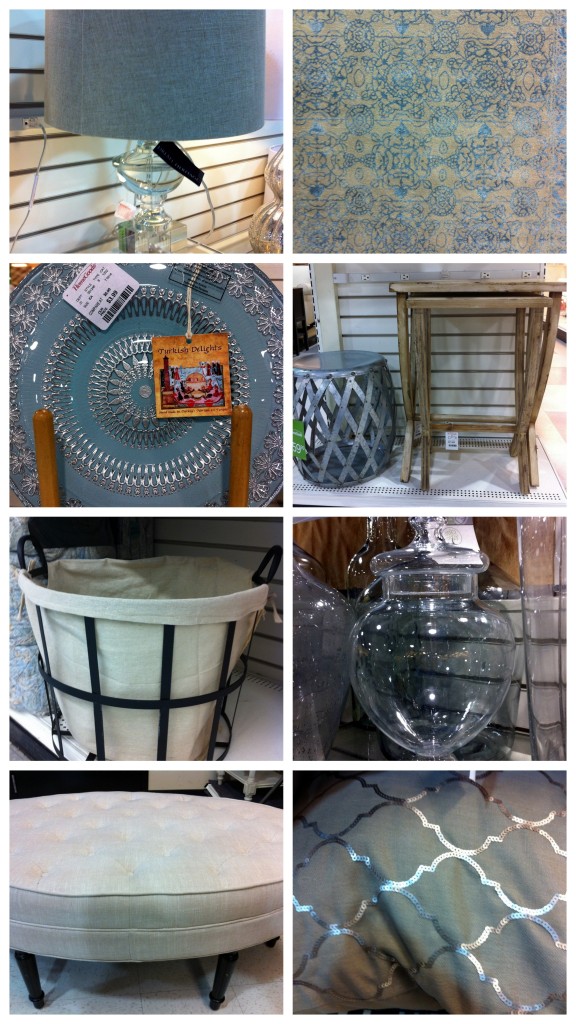 Can you see the pattern too? I wouldn't have noticed or realized that I was choosing items that actually went together if I hadn't taken the photos. Ask anyone I know and they will tell you that I can go back and forth about making a purchase for an hour. I highly recommend you try this with your phone the next time you go into a store with home furnishings. The trick is to only take pictures of things you REALLY love. If you kind of like it or think it might work, don't take the picture. You may have a few outliers; pictures that don't really go with the others, and that's ok. Just look at the overall feeling of the pictures. What is the overall color palette? Is there a particular design style that tends to be repeated more often than any others?
I loaded my pictures into Picasa, which is a free tool from Google to create these collages. I started playing around to see how my pictures would look in a room and this is what I came up with.
It looks like a living room or family room I would live in! All I need is a couch along the far side of the rug (at the top of the picture) and I am set. I used the ottoman as a coffee table and then put the blue plate with the silver filigree on top. The plate is too small to do this in real life but, I just went with it. You know I love my lamps and that one with the glass urn shape is to die. The wooden and the metal side tables add texture and a natural element. The glass apothecary jar would go on top of a table and would balance out the glass lamp on the other side of the imaginary sofa. The fabric with the glimmering Moroccan tile pattern is a pillow that would be tossed on said sofa. And finally, a metalwork basket would hold extra pillows, throws, and other luxurious things.
What do you think? Have you done this before or would you do it? Let me know how you found your style!
P.S. Can't run to the store right now? Here is a fun quiz to help you out and here is another one. I got different answers each time I took both quizzes, but it was fun.